Lots of people depend on at least one cup of coffee a day. It probably feels as though you have spent your entire life on a quest for the best instant coffee on the market. Most people love it for its ability to pick up your energy levels when you need a boost, but coffee also has lots of health benefits that you might not have known about. Whether you're a one coffee per morning person, or you drink it day and night, now you can feel smug as you sip on a nice mug of hot coffee. Here's a list of ten reasons to drink coffee every day.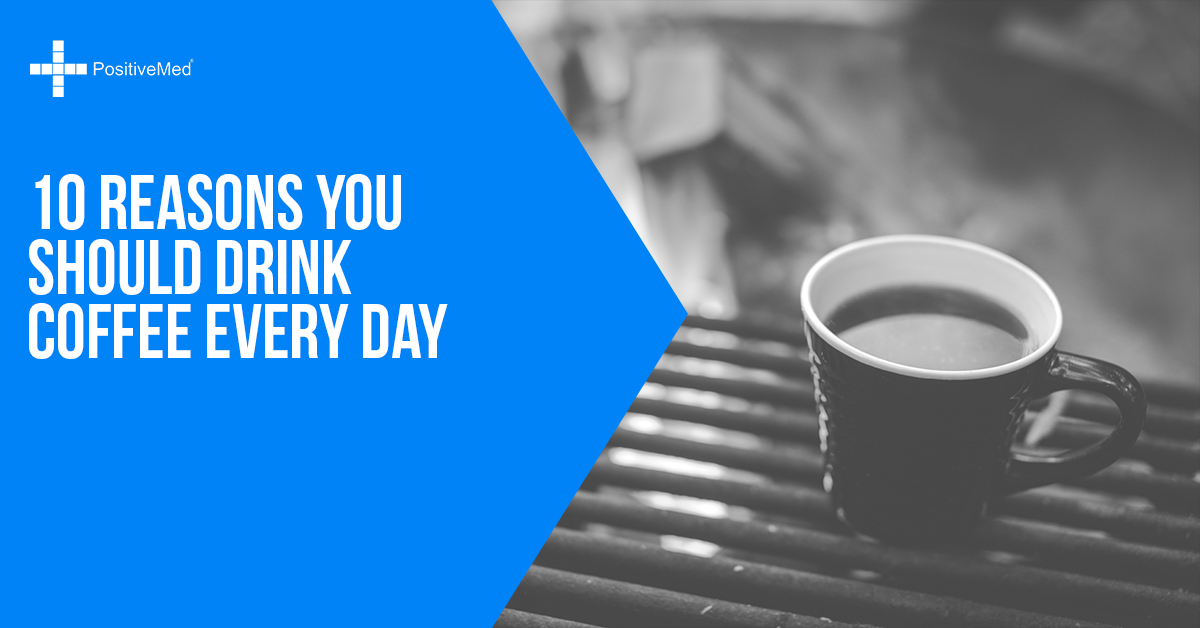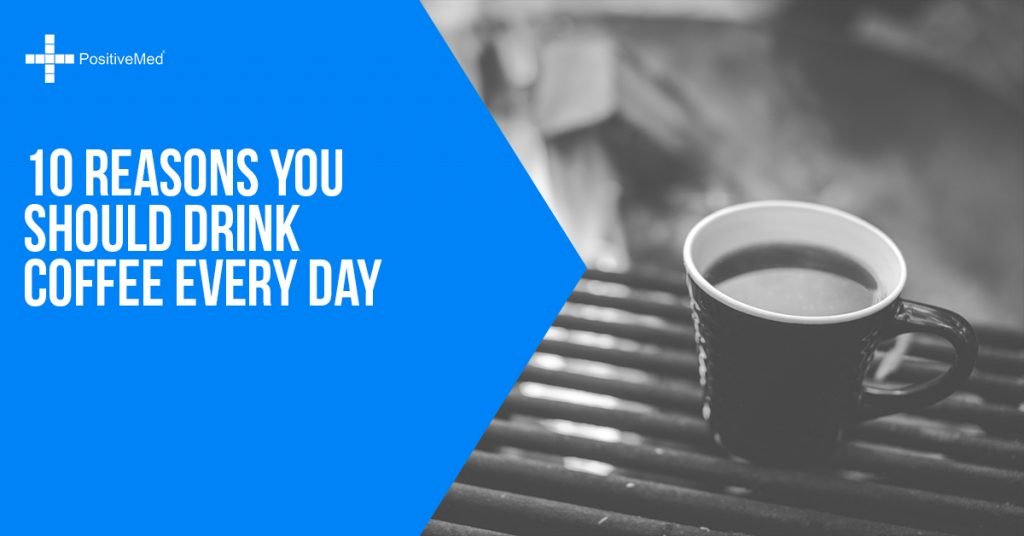 Coffee for Brain Power
There are claims that coffee can make you more intelligent, improve your memory and keep your brain healthy. Studies have shown that it can delay the onset of Alzheimer's Disease. Its energy boosting qualities help keep the brain alert and less tired. This helps improve memory recall, attention, your reaction times, retention of facts and information and reasoning skills. It is said to boost short-term memory and cognitive ability with just a single cup per day. Daily coffee consumption can also improve brain health more generally and reduce the risk of brain diseases.
Energy Booster
One of the main reasons people drink coffee is for its energy boosting qualities. This is because it contains the stimulant caffeine. While coffee is a drug and is addictive, it can help you feel more awake and energetic by increasing neurotransmitters such as Dopamine.
Improving Athleticism
Caffeine stimulates your nervous system and makes you more alert. It helps counteract fatigue. This alert feeling can transfer into a great workout. Lots of people take a shot of espresso before a weightlifting or long distance running session, for this reason. It won't make you stronger, but it will help you feel more capable and energetic. Many athletes know the benefits of coffee for athletic performance and endurance. The Journal of Applied Psychology found that athletes who consumed caffeine with carbs had 65% more glycogen in their muscles than those who consumed carbohydrates alone.
Stress reliever
Whether you drink coffee or not, the smell is an undeniably pleasant and powerful scent. You might have heard the saying 'wake up and smell the coffee' and you should do just that! Simply smelling coffee can relieve stress levels caused by sleep deprivation, according to researchers at the Seoul National University. The act of drinking coffee can help reduce stress levels further, probably why it promotes happiness …
RELATED ARTICLE: Regular Consumption Of Two Cups Of Coffee Per Day Counteract The Damage Of Alcohol To The Liver (Study)
Coffee for Happiness
For those who drink coffee, you'll already know that it makes you very happy! It helps fight against low moods and even has benefits against clinical depression. According to the National Institute of Health and Harvard studies, women who drank 4 or more cup of coffee a day had between 10 and 20% less risk of becoming depressed. Having said that, 4 cups exceeds the daily recommended intake of 300mg (around 3 cups). Taking time out and the social aspects of coffee drinking can relieve stress which boosts mood.Neurotransmitters that affect our mood are affected by the caffeine found in coffee (especially dopamine and serotonin). In addition, coffee is packed full of antioxidants that help us feel good. Thanks to its anti-depressant qualities, it has also been linked to reducing suicide rates in men and women (by up to 50%). Moderation is key to avoid a caffeine crash, which can make your mood lower.
Neurotransmitters that affect our mood are affected by the caffeine found in coffee (especially dopamine and serotonin). In addition, coffee is packed full of antioxidants that help us feel good. Thanks to its anti-depressant qualities, it has also been linked to reducing suicide rates in men and women (by up to 50%). Moderation is key to avoid a caffeine crash, which can make your mood lower.
Coffee as an antioxidant
Antioxidants help prevent or stop cell damage caused by oxidants all around us (such as pollution, alcohol, and smoke) and made in the body to fight virus and disease. Antioxidants are an important protectant in our bodies against cell damage. There are more antioxidants in coffee than fruit and vegetables, according to studies, and coffee drinkers consume most of their antioxidants from their coffee. There are over a thousand antioxidants in coffee. This could explain the many health benefits of coffee in terms of fighting illness and diseases.
Improve Liver Health
Coffee is said to protect the liver from damage including liver disease and event liver cancer. It is especially useful if you consume alcohol and prevents cirrhosis of the liver (often caused by alcoholism). A 2006 study over 125,000 people aged over 22 who drink a cup of coffee (at least) daily, were 20% less likely to develop cirrhosis. Its detoxifying property is perhaps why coffee is so appealing when you have over indulged on alcohol. Daily coffee drinkers have been found to have a reduced number of harmful enzymes in the liver.
READ ALSO: 12 Body Signals About Liver Damage
Speeds up Metabolism
Studies have shown that caffeine can help fat loss because it boosts our metabolism and increases fat burn rate by up to 30% … one of the reasons it is found in fat loss pills and fitness performance supplements. Black coffee is a better option than white, as milk can add calories and cause weight gain! Coffee is also said to reduce your risk of developing Type 2 diabetes, which is often caused my excess weight.
Increased Fertility
Coffee can improve your sexual health and sex life. Studies show that men who consume 250mg or more of caffeine a day have an increase in, and better quality, semen. As such, it can improve fertility in males. What's more, coffee-drinking men are less likely to suffer from erectile dysfunction.
Reduces the Risk of Heart Disease
The many antioxidants present in brewed coffee help fight against inflammation that can clog the arteries and cause heart disease. According to a study in the Netherlands over 15 years, with over 35,000 moderate coffee drinkers, they were found to have 25% less risk of developing heart disease compared to those who drank no coffee. Also, contrary to popular belief, coffee reduces heart
palpitations!
So there we have it – a cup of coffee or a few cups a day can work wonders in many ways, including the ten points outlined above.
Author Bio
Martha Purdue is the founder of www.drinkal.com. She has written about some of the most interesting facts and recipes She has discovered. She just loves writing about her favorite beverages to share her passion about coffee, tea, and espresso.
---
Disclosure Policy:

This blog is a collaborative blog written by a group of individuals. This blog accepts forms of cash advertising, sponsorship, paid insertions or other forms of compensation. The compensation received may influence the advertising content, topics or posts made in this blog. That content, advertising space or post may not always be identified as paid or sponsored content. The owner(s) of this blog is compensated to provide opinion on products, services, websites and various other topics. Even though the owner(s) of this blog receives compensation for our posts or advertisements, we always give our honest opinions, findings, beliefs, or experiences on those topics or products. The views and opinions expressed on this blog are purely the bloggers' own. Any product claim, statistic, quote or other representation about a product or service should be verified with the manufacturer, provider or party in question. This blog does contain content which might present a conflict of interest. This content will always be identified.
---
Disclaimer: All content on this website is for
educational and informational purposes only
and should not be considered to be a specific diagnosis or treatment plan for any individual situation. Use of this website and the information contained herein does not create a doctor-patient relationship. Always consult with your own doctor in connection with any questions or issues you may have regarding your own health or the health of others.