---
This is so amazing and exciting! I remember my mom starting avocados this way when I was a kid. It's the ultimate reuse/recycle project! If you can grow some of your own food, you control what's in it, you know there are no chemicals in there. I am accumulating several pots and small dishes for my own mini-garden, just because I no longer have a yard doesn't mean I can't eat things that I grow myself!
Apples- http://www.ehow.com/how_2135774_grow-apple-seeds.html
Coconut- How to Grow a Coconut Palm from a Dehusked Coconut:

Tomatoes- http://www.ehow.com/how_5581958_grow-tomatoes-fresh-tomato-seeds.html
Mango Tree: How to grow a mango tree from seeds:
Potatoes/Sweet Potatoes- HOW TO GROW 100 POUNDS OF POTATOES IN A BARREL

Green Onions- http://www.17apart.com/2012/02/how-to-grow-green-onions-indefinitely.html
http://tipnut.com/nifty-food-plants/

Leeks- http://www.alifeenchanted.com/2012/05/02/regrow-leeks-too/
Carrot Tops- http://www.gardeningknowhow.com/children-in-the-garden/grow-carrot-tops.htm
Pineapple- http://www.rickswoodshopcreations.com/Pineapple/pineapple.htm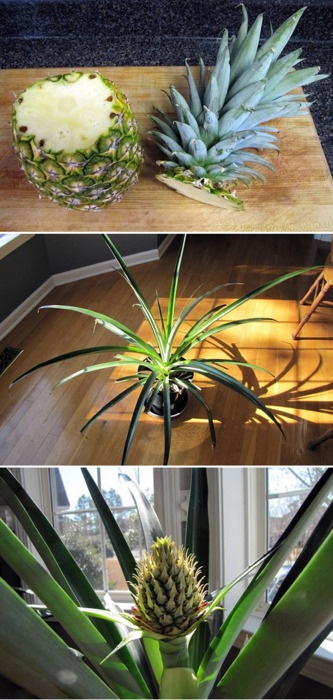 Romaine Lettuce- Same technique as celery
Cabbage- Same technique as celery
Celery- http://www.17apart.com/2012/02/growing-celery-indoors-never-buy-celery.html
Avocado – Watch how to grow an avocado tree in this video:
Lentils- http://foodstoragemadeeasy.net/2009/02/19/how-to-grow-sprouts/
Pumpkin- http://pinterest.com/pin/98375573080950437/
Ginger- To regrow gingers in a container watch this useful video! You can also use the same technic for many other herbs and spices:
Garlic- http://www.gardenswag.com/2011/12/5-foods-you-can-grow-from-kitchen-scraps/
Bonus: Bok Choy – http://www.17apart.com/2012/02/how-to-regrowing-bok-choy.html
---
Disclaimer: All content on this website is for
educational and informational purposes only
and should not be considered to be a specific diagnosis or treatment plan for any individual situation. Use of this website and the information contained herein does not create a doctor-patient relationship. Always consult with your own doctor in connection with any questions or issues you may have regarding your own health or the health of others.