---
One portion or fruit is as following:
2 or more small-sized fruit:such as 2 plums, 2 satsumas, 2 or 3 apricots, 2 kiwifruits.
1 Medium-sized fruit:such as 1 apple, 1 banana, 1 pear or 1 orange
Large fruits: half a grapefruit, 1 slice of papaya, 1 slice of melon (2-inch slice), 1 large slice of pineapple, 2 slices of mango (2-inch slices).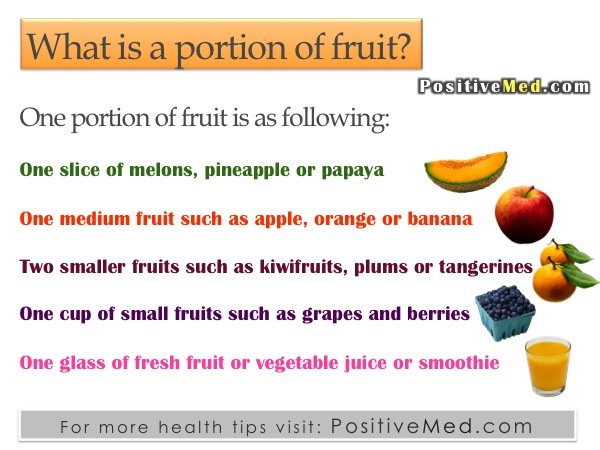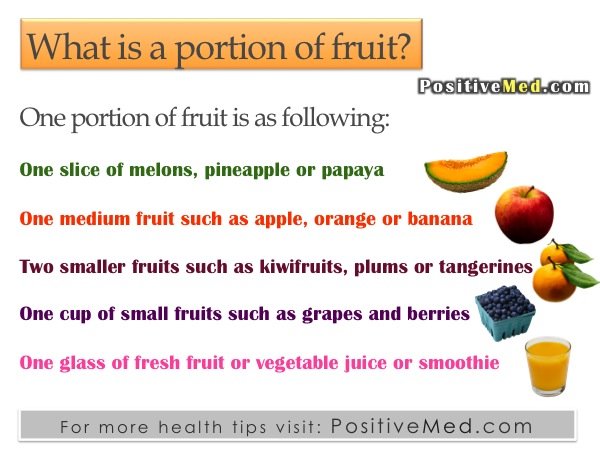 Here is a note about juices: A 150 ml glass of fresh juice (fruit or vegetable juice or smoothie) counts as 1 portion, but you can only count juice as 1 portion per day, however much you drink. This is mainly because it contains very little fibre.
---
Disclaimer: All content on this website is for
educational and informational purposes only
and should not be considered to be a specific diagnosis or treatment plan for any individual situation. Use of this website and the information contained herein does not create a doctor-patient relationship. Always consult with your own doctor in connection with any questions or issues you may have regarding your own health or the health of others.