Dog Jumped Into Her Car, See What Happened Next !
Everybody knows that dogs often have an intuition about humans. For example, people are well versed in stories of dogs that arrive to save human beings from danger. However, did you know that dogs have an intuition about which human beings will help them? It's true! At least, that is what happened to a dog named Kelsey.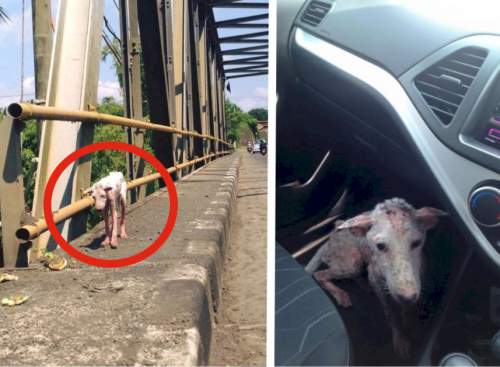 Kelsey was once an unnamed stray dog wandering the streets. Her fur was nearly gone, she was covered in scabs and was wandering around in the heat. This can be deadly for dogs. However, a kind person stopped to examine the dog. The person opened her car door, and surprisingly, the poor animal jumped right into the passenger seat! It was as if the dog instinctively knew that this person would be her rescuer. The rescuer took the dog home and made sure the animal was seen by a vet.
RELATED ARTICLE: What Your Dog Says About You
The healing process for the stray dog wasn't easy. It took lots of help from a team of veterinarians to get the dog, now named Kelsey, back to health. Kelsey had known nothing but abuse her entire life. There were many things wrong with her that needed to be addressed. This included her fur, teeth, paws, and immune system. However, Kelsey was a fighter, and her new owner was full of love. Now, Kelsey enjoys romping around in the shade and napping in her own basket. She looks fantastic! No one would know about her unfortunate beginnings.
RELATED ARTICLE: NON-SURGICAL SOLUTION PROVING SUCCESSFUL FOR TREATING CANINE CATARACTS
Keep this story in your heart. It shows that dogs can sometimes find the loving people they need. It also teaches us of the beautiful things that can bloom after showering a little love and kindness on an animal less fortunate than others. Keep your eyes open while driving. A future Kelsey may be looking for you too!
---
Browse Our Original Videos:
Subscribe to our YouTube channel
Strawberry and Egg Mask for Rejuvenating Your Skin
What is Hashimoto's disease, the condition Gigi Hadid and many other women have?
Man Finds Most Tragic Breakup Letter in a Lost Wallet
Two Plank Moves For Core Strength, Stability, and Flat Abs
How to Contour and Highlight Your Face in 5 Easy Steps
Foods Proven To Give Your Libido A Very Happy Boost!
14 Facts You Probably Didn't Know About Kissing!
Steve Jobs Love Story
Angelina Jolie's Story: Chase your purpose and success will follow you!
EXERCISE FOR YOUR BACK! DO THIS WHEN U WATCH TV!
FAST AND SIMPLE MAKEUP FOR A NIGHT OUT
The Best Stability Ball Exercises for a Strong Core
---
Disclaimer: All content on this website is for informational purposes only and should not be considered to be a specific diagnosis or treatment plan for any individual situation. Use of this website and the information contained herein does not create a doctor-patient relationship. Always consult with your own doctor in connection with any questions or issues you may have regarding your own health or the health of others.