What Your Daydream Reveals About You:

• You tend to daydream less as you get older
Anticipating the future, especially in a fantasy context, is what daydreaming is all about. Young people are generally the ones who have more fantasies compared to older people. You often find young people have power fantasies, like how would it feel to be a superhero. With age people tend to lose these fantasies, so their daydreams become less frequent.
• You forget what you were doing when you daydream
Research shows that people tend to forget what they were doing before the daydream if they are daydreaming about the past. How much you forget depends on the type of daydream. For instance, the further back in time the daydream reaches, the larger the forgetting effect. Besides the time factor, it depends on physical aspects, if you are daydreaming about a vacation abroad, you can forget what you were doing more than a daydream about a vacation out of state. This happens because the trip abroad is very much out of context and feels like you are mentally transported there. This is of great importance for people who rely a lot on memory in their careers.
• Other parts of the brain are turned off by daydreaming
Our brain consists of two key systems: An analytical part that helps us with reasonable decision making, and an empathetic part which allows us to relate to others.
Your brain requires the empathetic area to turn off to get the job done when confronted with cognitive tasks. The analytical and empathetic parts of the brain turn each other off when your mind naturally cycles through different modes of thinking while daydreaming.
• Your daydreams are controlled by your brain, not your mind
Like the software and hardware of a computer, your mind and brain are different aspects of the same thing. We generally tend to think that our brain activity follows our mind, but the fact is that the relationship goes both ways. The brain's structure molds the way we daydream and think. On the other hand, structure is not static and keeps changing in small ways. The connections between nerve cells change as we learn new things.
• You become more creative by daydreaming
An association between bits of information the person had never considered in that particular way can be made by the daydreaming mind. This makes the person more creative as daydreaming gave them a completely new perspective of looking at things. This helps come up with solutions for problems in a creative manner. A more random but similar process takes place during dreaming.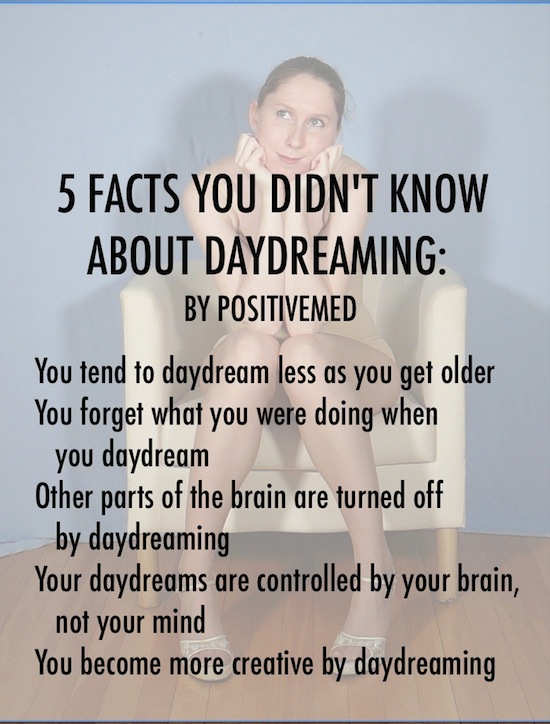 What Your Daydream Reveals About You
By PositiveMed-Team
Edited By Stephanie Dawson
[Last Updated on May 26th 2014]
---
Browse Our Original Videos:
Subscribe to our YouTube channel
The Healthiest Vegan Antipasto Salad Recipe
Heavenly Homemade Chocolate Cupcakes Recipe
Four Easy Hacks for Nicer and Juicier Lips- Volumize Your Smile
PositiveMed
Strawberry and Egg Mask for Rejuvenating Your Skin
What is Hashimoto's disease, the condition Gigi Hadid and many other women have?
Man Finds Most Tragic Breakup Letter in a Lost Wallet
Two Plank Moves For Core Strength, Stability, and Flat Abs
How to Contour and Highlight Your Face in 5 Easy Steps
Foods Proven To Give Your Libido A Very Happy Boost!
14 Facts You Probably Didn't Know About Kissing!
Steve Jobs Love Story
---
Disclaimer: All content on this website is for informational purposes only and should not be considered to be a specific diagnosis or treatment plan for any individual situation. Use of this website and the information contained herein does not create a doctor-patient relationship. Always consult with your own doctor in connection with any questions or issues you may have regarding your own health or the health of others.