I have had so many requests for this recipe I will share. It takes a while, but it's worth it! You need a bundt cake pan, one small saucepan, bowl, whisk, teaspoon, tablespoon, and measuring cup. I used the same pan and bowl for each layer, you have plenty of time to wash in between!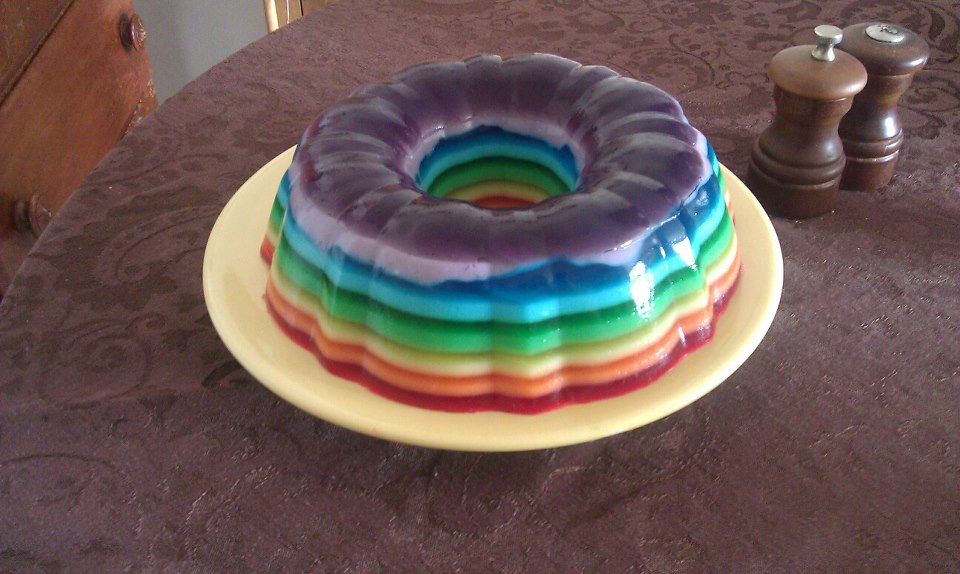 Ingredients:
3 cups very cold rum or vodka, flavored is okay (I put mine in the freezer for a couple hours)
6 teaspoons plain unflavored gelatin
6 3-oz packages of jell-o, we used grape, berry blue, lime, pineapple, orange, and cherry
1 1/8 cup vanilla yogurt
water
cooking spray
Lightly spray bundt pan with cooking spray, wipe out excess. Place 3/4 cup water in saucepan, sprinkle one teaspoon unflavored gelatin over it, let sit for a minute or two, heat on medium-low stirring constantly with whisk until dissolved, about 5 minutes. Add first package jell-o, whisk in until thoroughly dissolved, about 2 minutes, remove from heat, stir in 1/2 cup cold alcohol, pour 3/4 cup jell-o mixture into mold, place mold in refrigerator. After 10-15 minutes place rest of jell-o mixture into bowl, place in refrigerator 5 minutes. Take bowl out, add 3 tablespoons vanilla yogurt and whisk thoroughly, gently add to bundt pan, place back in refrigerator.
Wash all your utensils and start over with next flavor, as the pan chills more and the layers get thinner it will go faster to add next layer, if it feels slightly tacky to the touch it is ready. If it's not set enough the layers will "bleed" through, it it sits too long the layers will come apart. When you add the last layer refrigerate at least overnight, with clean hands pull jell-o away from the edges of the pan, dip almost to top into a container or sink of warm, not hot, water for 10 seconds, remove and jiggle pan, if it looks like it's coming away from the edges it's ready, if not, dip again for a few seconds. Place serving plate upside down over top, invert, and voila. A beautiful, delicious, impressive dessert!
---
Browse Our Original Videos:
Subscribe to our YouTube channel
The Healthiest Vegan Antipasto Salad Recipe
Heavenly Homemade Chocolate Cupcakes Recipe
Four Easy Hacks for Nicer and Juicier Lips- Volumize Your Smile
PositiveMed
Strawberry and Egg Mask for Rejuvenating Your Skin
What is Hashimoto's disease, the condition Gigi Hadid and many other women have?
Man Finds Most Tragic Breakup Letter in a Lost Wallet
Two Plank Moves For Core Strength, Stability, and Flat Abs
How to Contour and Highlight Your Face in 5 Easy Steps
Foods Proven To Give Your Libido A Very Happy Boost!
14 Facts You Probably Didn't Know About Kissing!
Steve Jobs Love Story
---
Disclaimer: All content on this website is for informational purposes only and should not be considered to be a specific diagnosis or treatment plan for any individual situation. Use of this website and the information contained herein does not create a doctor-patient relationship. Always consult with your own doctor in connection with any questions or issues you may have regarding your own health or the health of others.