If you're looking for a guide to learn what tea you should be drinking in different situations, then this poster is a good reference for you. I always store a variety of tea in my cabinet for different situations.
chamomile tea
green tea
chai tea
oolong tea
peppermint tea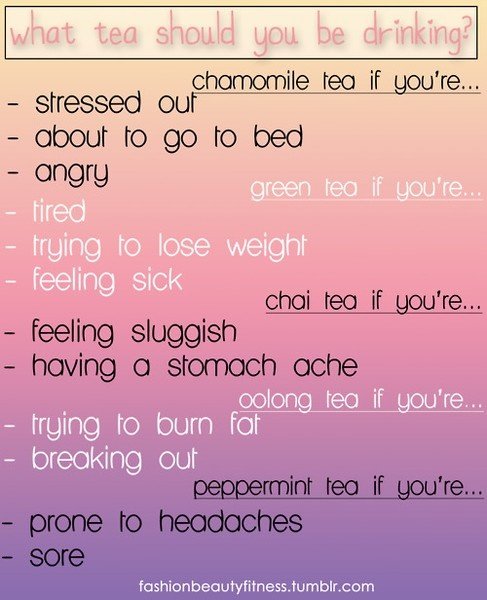 Chamomile is one of the best teas in preventing infections, because of some antibacterial agents. Chamomile also contains glycine, a mild nerve relaxant and sedative.
You can use chamomile as a herbal tea (use tea bags or add the flowers to boiling water) or you can add it to your salads!
Enjoy the tea or salad two hours before going to bed and have a sound and peaceful snooze.
---
Browse Our Original Videos:
Subscribe to our YouTube channel
The Healthiest Vegan Antipasto Salad Recipe
Heavenly Homemade Chocolate Cupcakes Recipe
Four Easy Hacks for Nicer and Juicier Lips- Volumize Your Smile
PositiveMed
Strawberry and Egg Mask for Rejuvenating Your Skin
What is Hashimoto's disease, the condition Gigi Hadid and many other women have?
Man Finds Most Tragic Breakup Letter in a Lost Wallet
Two Plank Moves For Core Strength, Stability, and Flat Abs
How to Contour and Highlight Your Face in 5 Easy Steps
Foods Proven To Give Your Libido A Very Happy Boost!
14 Facts You Probably Didn't Know About Kissing!
Steve Jobs Love Story
---
Disclaimer: All content on this website is for informational purposes only and should not be considered to be a specific diagnosis or treatment plan for any individual situation. Use of this website and the information contained herein does not create a doctor-patient relationship. Always consult with your own doctor in connection with any questions or issues you may have regarding your own health or the health of others.