Being yourself is the best thing you can be, after all, who knows you better than you? Really knowing yourself, deeply, and truly loving yourself, is the most beautiful, wonderful thing that can ever happen to you.

It's easy to get caught up in what other people look like, what other people wear, what they do, and how they act. It's also easy to bypass yourself for who you want to be. I think you need to embrace yourself now, flaws and all, and see yourself as beautiful as you really are.
I have some self-image problems myself, I like myself as a person just fine, but sometimes when I see pictures of myself I don't associate myself with them. I wish this was because how I look really doesn't matter to me, unfortunately, that's not the case.  I like myself fine in the mirror, it's pictures that make everything seem off and not like me.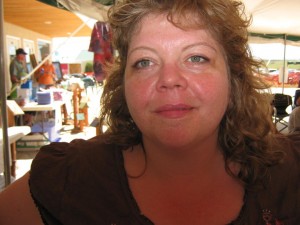 About the author:
MamaSteph has 2 kids by birth and several by love, she is a nurse and enjoys finding healthier ways to make comfort foods, gardening, enjoying nature, and living life to the fullest…For a list of her blogs please click here.
---
Browse Our Original Videos:
Subscribe to our YouTube channel
What is Hashimoto's disease, the condition Gigi Hadid and many other women have?
Man Finds Most Tragic Breakup Letter in a Lost Wallet
Two Plank Moves For Core Strength, Stability, and Flat Abs
How to Contour and Highlight Your Face in 5 Easy Steps
Foods Proven To Give Your Libido A Very Happy Boost!
14 Facts You Probably Didn't Know About Kissing!
Steve Jobs Love Story
Angelina Jolie's Story: Chase your purpose and success will follow you!
EXERCISE FOR YOUR BACK! DO THIS WHEN U WATCH TV!
FAST AND SIMPLE MAKEUP FOR A NIGHT OUT
The Best Stability Ball Exercises for a Strong Core
Simple Yet Hot Hairstyles to Rock at the Gym
---
Disclaimer: All content on this website is for informational purposes only and should not be considered to be a specific diagnosis or treatment plan for any individual situation. Use of this website and the information contained herein does not create a doctor-patient relationship. Always consult with your own doctor in connection with any questions or issues you may have regarding your own health or the health of others.