This is one my my favorite Stephen Covey's Quotes:
"Seek first to understand, then to be understood."
~Stephen Covey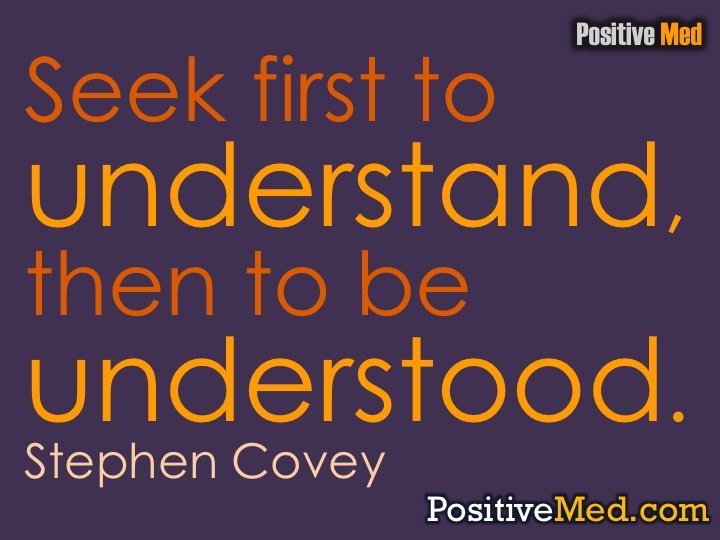 This is Habit 5 from "The Seven Habits of Highly Effective People" by Stephen Covey.
Here's some of what Stephen Covey has to say:
"Communication is the most important skill in life. You spend years learning how to read and write, and years learning how to speak. But what about listening? What training have you had that enables you to listen so you really, deeply understand another human being? Probably none, right?
If you're like most people, you probably seek first to be understood; you want to get your point across. And in doing so, you may ignore the other person completely, pretend that you're listening, selectively hear only certain parts of the conversation or attentively focus on only the words being said, but miss the meaning entirely. So why does this happen? Because most people listen with the intent to reply, not to understand. You listen to yourself as you prepare in your mind what you are going to say, the questions you are going to ask, etc. You filter everything you hear through your life experiences, your frame of reference. You check what you hear against your autobiography and see how it measures up. And consequently, you decide prematurely what the other person means before he/she finishes communicating. Do any of the following sound familiar?
"Oh, I know just how you feel. I felt the same way." "I had that same thing happen to me." "Let me tell you what I did in a similar situation."
---
Browse Our Original Videos:
Subscribe to our YouTube channel
Strawberry and Egg Mask for Rejuvenating Your Skin
What is Hashimoto's disease, the condition Gigi Hadid and many other women have?
Man Finds Most Tragic Breakup Letter in a Lost Wallet
Two Plank Moves For Core Strength, Stability, and Flat Abs
How to Contour and Highlight Your Face in 5 Easy Steps
Foods Proven To Give Your Libido A Very Happy Boost!
14 Facts You Probably Didn't Know About Kissing!
Steve Jobs Love Story
Angelina Jolie's Story: Chase your purpose and success will follow you!
EXERCISE FOR YOUR BACK! DO THIS WHEN U WATCH TV!
FAST AND SIMPLE MAKEUP FOR A NIGHT OUT
The Best Stability Ball Exercises for a Strong Core
---
Disclaimer: All content on this website is for informational purposes only and should not be considered to be a specific diagnosis or treatment plan for any individual situation. Use of this website and the information contained herein does not create a doctor-patient relationship. Always consult with your own doctor in connection with any questions or issues you may have regarding your own health or the health of others.